Interview with Author Ron Bonn, How to Help Children Through a Parent's Serious Illness
Author's Corner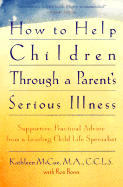 Ron Bonn and Kathleen McCue co-Authored the book How to Help Children Through a Parent's Serious Illness,  which grew out of an award-winning TV report that Ron did as a producer for NBC News.
 Kathleen McCue
Q:  How did you come to participate in co-writing this groundbreaking book?
A:  In the early '90's, I was the science and medicine producer for NBC Sunday Today.   One morning a routine press release showed up from the Cleveland Clinics Foundation, a tertiary care facility (if you went there, you were pretty sick).   CC had a program, led by a child life specialist named Kathleen McCue, CCLS, to support the children of sick and dying parents.   This program was included in the parent's treatment.  Whatever the outcome for the parent, as long as the child needed emotional or psychological help, Kathleen McCue would provide  it.    I almost tossed the paper, then something struck me:  Over the years, I'd encountered some fine support programs for the parents of sick and dying children.  Never had I seen a program for the childrenof such parents.    I went out to Cleveland, and was simply overwhelmed by what Kathleen was accomplishing in her Cleveland Clinic "playroom."   I watched her work—based on the fundamental principle that you must never lie to a child.  I sat and chatted with eight, nine, ten-year old kids, whose mother or father had died, and who were making it—who could talk clearly and comfortably of what had happened, and of the futurAfter producing "Survivors," the story of Kathleen's pioneering work, for Sunday Today (we won several awards, including American Women in Radio and Television), I told Kathleen she HAD TO turn what she was doing into a book—a manual for all the families who needed her ideas, but would never meet her.    Kathleen thought, maybe someday.  I thought, right now.
It took me a year, but I finally got Kathleen to get serious; we spent a long weekend together at her Cleveland home, then worked nights and weekends on the telephone (we both, of course, had fairly demanding day jobs) for six months.   I later got a note from Kathleen telling me that our book exists "because of your wonderful writing and constant nagging."   As a producer, I take that as two compliments.
 Ron Bonn
The book seemed to fill a void that nobody ever realized existed.   It has never been out of print.   It is circulated, sold and/or recommended by every single disease-focused support organization in America.   Our most recent semi-annual sales figure from the publisher—more than 700 copies of the new edition—is our strongest half-year ever; our agent says it's a remarkable figure for a book this special Because nobody will ever pick up "How to Help Children Through a Parent's Serious Illness" for a casual read.   I suspect that Kathleen and I are the only two people who've ever read it cover-to-cover.   But for the estimated half-million American families each year who face the serious, or grave, or fatal illness of a parent, there is simply nothing else like it.   My goal now is to make sure they know it's out there. (So, thanks for your help.)
Q:        What do you see as the main reasons that families might need this book?   
A:  Let me quote from the book:
Even in the face of ultimate tragedy, children can be prepared, can weather the trauma, can emerge whole and healthy and ready to go on with life.

On the other hand, children who are not prepared, not given the kind of support and understanding we'll be talking about throughout this book, can be permanently scarred by a parent's medical crisis, even if the parent survives and returns eventually to full health.
And further:
There are no "right" answers, but there are answers.  There are questions your children will certainly ask; there are reactions, healthy and unhealthy, that you can observe and deal with.  There are situations you can handle and resolve, and there are signs that can warn you your child needs professional help.  Age is an important clue to what children may think and feel, so some of our discussions will be divided into age groups.
Over the years, the letters Kathleen and I have received from families who've been helped by the book have far repaid the effort we put into the two editions.   One of my favorites, included in the new edition:
"If there is one thing I wish I could tell other parents in the same boat, it is that, although this sucks, you and your kids will be okay." –Joyce Callahan
Q:  What are the differences in the editions?
A:  When this book first appeared, the Internet was primarily a useful tool for adults running governments and corporations.  Today, just about every child goes to it unhesitatingly for information and, all too often,  misinformation.   The Web can terrify a child about a parent's illness.   And the children tell each other all their secrets on their social media pages.  New chapter: "The Wonderful, Terrible Internet"
The science of genetics was a lusty, promising infant, but most of that promise was unfulfilled—biology had not yet unraveled the human genome.  Our first edition emphasized the need to tell your children, "You can't catch this from me."  But what do we tell them now, when science might say, "You may already have 'caught' this from me.  You may have inherited it"? New chapter: "Genetic Diseases: 'No, but….'"
 In 1995, the family norm in America was two parents, living together—the first edition did offer some guidance to the single parent, but today the single parent has become America's new normal, and a great deal more attention must be paid.  New chapter: "Single Parenting, Multiple Households."  The list goes on.  Today's parents, facing a family medical crisis, confront a vast array of dangers and of opportunities undreamed of when this book first appeared.  And so we felt the need to bring "How to Help Children…" into the twenty-first century.   The core of the book, its central philosophy, remains unchanged.  But new chapters and new sections address these new realities of parenting through a family medical crisis.
Q:  Anything else you'd like to share with us?
A:  Well, in case you're wondering: Kathleen is Rodgers; I'm Hammerstein.   I wrote the words, but the music is all Kathleen McCue.   And no word has gone into our book without her approval.
And finally, a personal note: I blew past 80 while working on the new edition; I'm 84 now.   And I've come to look on this book—my only book, by the way—as something of a legacy.    Because it will still be around, helping families with Kathleen's astonishing perceptions, long after I'm no longer available to make any further trouble.   But that will happen only if the people who need it know it exists.  So again, Marni, thank you.
 To Purchase the book CLICK HERE
Ron's Blog:  www.tenderandstrong.wordpress.com
 Ron's first poem and photo book: blurb.com
There's a seven page preview at this order link:  http://blur.by/1yiRWfe