Interview with Brian Klems of Writer's Digest
   I recently had the pleasure of interviewing Brian A. Klems, a writer and the online editor for Writer's Digest magazine. Brian has been writing for Writer's Digest since 2003 where he covers the most pressing grammatical, ethical, business and writing-related questions—and often does it with a bit of humor. 
Writer's Digest "wrote the book" on writing and getting published.  For more than 90 years, the experts at Writer's Digest have been publishing books, magazines, competitions, conferences and distance education materials for writers who want to polish their skills and hone their craft.  WritersDigest.com is the one-stop shop for information, resources and writing community. Writers can connect with other writers on their forum, visit their blogs and sign up for their free weekly e-newsletter.  They'll also find weekly writing prompts, contests and competitions, conference listings, and online exclusive articles.
You can check out Brian's Questions & Quandaries Blog for Writer's Digest as well as read about his adventures as a father of three lovely little girls at TheLifeOfDad.com. Brian's first parenting humor book, OH BOY, YOU'RE HAVING A GIRL (Adams Media),
 was endorsed by Dave Barry and was called "laugh-out-loud funny" by the Chicago Tribune.  He is also a proud graduate of the E.W. Scripps journalism school at Ohio University.
So without further adieu…
Q:  Many of our clients are grappling with the question of whether to purse traditional publishing versus self-publishing. What are your thoughts? 
A:  I get that question all the time! The publishing industry has really been changing over the last five years. And the choice comes down to this – it depends on what you want to accomplish. If you believe that you have the potential for a mega-selling book, a New York Times best-selling book then traditional publishing has many advantages. They have advantages to get you into bookstores and the relationships and experience to do things you can't always do when you self-publish. In fact, 10 years ago traditional publishers held the keys to marketing and distributing books. Now that's not the case. With the Kindle and iPad revolution anyone can create an e-book. But to get into the brick and mortar stores, traditional publishing is still the best route to go. However, as e-books continue to grow in popularity and there are fewer books printed, I believe self-published authors will get the advantage.
Q:  What do you think has been the biggest change in publishing over the past five years?
A:  I believe the revolution has been in access. Before, the only way to get your book edited was through an agent. Now you can get your work edited and there are teams for hire to help with SEO (Search Engine Optimization) for Amazon, Google and Bing.  Publishing companies are downsizing and many editors are out of work and using their considerable skills and experience as freelancers. It can be costly but getting a quality editor is worth it. A good editor is worth their weight in gold. You still need to find the right editor – and traditional publishing has always had that edge – but it's just shrinking. The big differences between traditional and self-publishing are slowly eroding. The industry is in the process of changing and will continue to change as there is less reliance on printed pages.
Q: Should genre play a role in the self-publishing versus traditional publishing question?
A: I do think it matters.  You have a much better chance of finding success if you have a non-fiction book to self publish. However, a lot of people try to predict the future of publishing and the truth is no one really knows. They might have indicators but the industry is in flux and changing all the time. First Readers came out and then e-books and now everyone uses a Kindle or iPad.  Even my Mom has embraced this change. I personally like the feel of holding a book (and my mom is a dinosaur too) but she loves her Kindle. She doesn't buy paperback books anymore and loves that she can change the fonts.
Q: What are the benefits for writers who go the self-publishing route?
A: You get total control. You have total control of the story you are telling. You have total control of your cover, marketing plan and online platform. Total control means you need to know your market.  Your book's future lives and dies by your decisions. You also get to keep the majority of the money your book makes. It's counterintuitive but you make more money by selling fewer books. You can also publish swiftly and get your work out into the world faster. This is especially helpful if you are writing on a subject in pop culture or something that has an immediate news value. If you can quickly capitalize on pop culture like a book on Jeremy Lin and "Linsanity" then self-publishing makes sense. I think traditional publication needs to work on speeding it up. Their goal is to make money but a book that goes the traditional publishing route can take 12 to 24 months to publish.
Q:  What are the benefits of traditional publishing?
 A:  There are many – again it depends on the scope of your book – but I think the main difference is that agents and traditional editors really care about books. They want to represent authors that they care about and love. They are the gatekeepers now and they want to get the best authors and best writing published. People have gotten away from vanity publishing and now traditional publishing acts as the gatekeepers to the highest quality works. With self-publishing there is no gatekeeper and no quality guarantee. Sometimes when I spend money on a book, I want to know that it's a good book and that quality seems to often still come from traditional publishing with agents and editors. Getting traditionally published also helps with your credibility. Writers immediately get credibility when they get an agent and traditional publisher because you know that it has been vetted.
Q: Can you tell if a book is self-published?
 A:  Not always. You can look at the publisher but it's getting harder to tell what's traditional versus self-published as covers and layout look more and more professional. The big publishers are continuing to consolidate because the margins are thin. But I buy books…I don't think of brands. I think of the authors I like and not Penguin or Random House or the many, many sub brands. People don't know the brands and don't take them into account when buying a book.
Q: Where does Writers Digest fit in with writers today?
A:  I firmly believe that Writer's Digest is a great publication and our site is the go-to resource for writers. The magazine is as much for us as it is for everyone else. We are writers and we want to become better writers too and we want publishing careers too. Our goal as editors is to help people write better, get published and get paid for their writing. No matter if its poetry, fiction or non-fiction, we are focused on helping people get their best work out there. The Writers Digest publications, classes and online sites have information that's easy for people to digest and focuses on the elements of making a great book. We are a resource and have the inside information on what agents and publishers are looking for in this quickly changing marketplace. People digest information in different ways and we are here to disseminate our writing information in a format that fits – be it through our magazine, webinars, annual conferences, online classes or video tutorials.
Q:  What Muppet do you think most represents your personality? (You know, Kermit, Fozzie Bear, Miss Piggy, Animal…)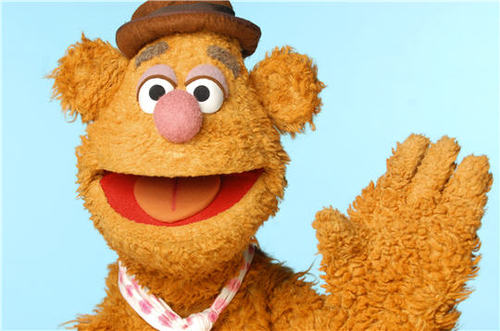 A:  Fozzie Bear. I think mainly because he tells jokes. Not all of them are great jokes but I respect telling jokes because it reminds me of being a writer and how we are constantly revising as a writer and what made me laugh weeks ago won't work today.
To purchase Brian's Book CLICK HERE
Photo Credits:  thepolyblog.ca,arnedition.wordpress.com, snoopy.com